Holiday Gift Guide 2020
This year has been long and challenging and I think we all deserve a really great holiday season!!! 
I love shopping therapy, how about you??? 
Let's get creative!!!
Wicked Local Holiday Shopping
Can't-Miss Holiday Strolls:
December 21: Enjoy local holiday shopping on Providence's Wickenden Street alongside carolling, hot chocolate and plenty of Christmas spirit during Wickenden Wonderland. 6-8pm, Musician-led procession starts at The Point Tavern, 302 Wickenden Street
December 22: Head on over to the Holiday up on Thayer Street and enjoy holiday shopping at local Thayer Street shops, specials offers up and down the street, food samplings, and a special cameo from Santa. 
December 23: Add an extra dose of cheer to local holiday shopping in Providence's West Side during the 11th Annual West Side Caroling. Enjoy a merry and bright stroll with special stops and snacks along the way, topped off with a final stop of milk and cookies at Sin. 
December 22: Swing by the Aquidneck Growers Market at Newport Vineyards and browse a variety vendors offering goodies from local food to artisan-made gifts, and more! Plus enjoy a special appearance from dancers of the Island Moving Company's Nutcracker. 
December 22: Stock up on fresh produce, meats, and an array of deliciously local food for your holiday meal at the Hope Artiste Village Wintertime Farmer's Market in Pawtucket.
December 23: Catch the Arcade Popup Farmers and Artisans Market at The Arcade Providence and enjoy browsing a variety of local vendors including artists, makers, vintage and antique dealers, and more! 
December 23: Give the gift of local art this holiday with the array of hand-made creations found at the Small Works Holiday Art Show and Sale, hosted by the Wickford Art Association. 
December 23: Get your merry on with artful holiday shopping and tasty craft brew when the Field of Artisans pops up at Whalers Brewers Company in South Kingstown, with a wide selection of handmade gifts. 
8 Local Rhode Island Business for Holiday Shopping
When the Holidays come around, most people turn to the big box stores or more commonly, the internet. Don't get me wrong, the internet is super convenient but you don't get the same service that you do from your local small businesses. As a small business our self, we always love to support and promote others alike. So for this holiday season, stop by some of the local Rhode Island shops to do your gift shopping. 'Video may have killed the radio star', but let's not let Amazon take down our local boutique shops here in RI. So here is a list of 8 local Rhode Island businesses for Holiday shopping. Shop local!
And if you haven't gotten your tree yet, check out our list of local tree farms in Rhode Island. Then, to wow your holiday party guests, check out our list of local pie places!
Best Places for Holiday Shopping in Providence
B.A.D. Custom Clothiers
188 Benefit St., Providence, 663-6544
Briggs Doherty's eponymous custom shop outfits Providence's most dapper men in American khakis, Italian silks and custom-made shirts and suits guaranteed to make any mega-mogul swoon. Open by appointment only.
The Barking Lot
697 Allens Ave., Providence, 781-2275, thebarkinglotri.com
This daycare/boarding/grooming facility sells everything from Snarly Dog grooming products to stuffed toys that stand up to power chewers and veterinarian-designed leashes and car harnesses.
Benefit Street Antiques
243 Wickenden St., Providence, 751-9109, benefitstreetantiques.com
Owner Marian Clark imbues her antiques store with equal parts pragmatism and charm. Dedicated to selling wares from historic New England, Benefit Street Antiques carries hand-woven linens, century-old silver and delicate china.
Capucine
359 South Main St., Providence, 273-6622
For the fashion lover on your list, Capucine offers coveted designer Ts, tunics and blouses that take any wardrobe from business casual to weekend and beyond. What's even more alluring? Capucine is waist-high in jeans that can go from play to date night with two
additional inches of heel.
Carmen and Ginger
65 Weybosset St., Providence, 274-1700, carmenandginger.com
We never tire of popping into this Arcade-based store whenever we are in Providence. On separate visits we've spotted a Liberty of London silk scarf, a Coach purse and loads of fun jewelry and home accessories. Sorting through the racks is like going on a fashion lover's treasure hunt.
Clad In
497 Angell St., Providence, 454-8442; 32 Friendship St., Westerly, 596-1958, cladin.com
There are plenty of reasons to gift the textured, sophisticated designs at Clad In, but the best may be iron-free mornings for the recipient. With an emphasis on fabrics that pucker and pleat, lines include Babette, Lilith and Crea Concept.
Clover
233 Westminster St., Providence, 490-4626, cloverprovidence.com
Clover keeps fashion-forward closets stocked with business casual clothing and contemporary designer separates for work and play. The laidback and luxurious inventory for men and women is put together with your shopping list in mind.
Craftland
212 Westminster St., Providence, 272-4285; 264 Main St., East Greenwich, craftlandshow.com
A mecca of all things handmade, Craftland takes full advantage of local artistic — including some RISD — talent. Frame-worthy city prints, beautifully industrial letterpress earrings and reusable snack bags are just a handful of the fun, inspired finds at this Westminster and East Greenwich gem.
Eno Fine Wines and Spirits
225 Westminster St., Providence, 521-2000, enofinewines.com
Wine is the no-fail holiday gift, sure to please just about any recipient and almost always event-appropriate. The knowledgeable, friendly staff can guide you by region, varietal or price tag to make sure the holiday meal — beef, pork, poultry or vegetarian — is perfectly paired and merry.
Frog and Toad
795 Hope St., Providence, 831-3434, frogandtoadstore.com
Colorful journals, silk-screened Ts with a local edge (who else would understand the raised Red Bridge?), melt-your-heart toddler clothing, plus hip jewelry and watches and quirky home accessories.
Henry Bear's Park
736 Hope St., Providence, 351-5718, henrybear.com
A treasure trove for kids twelve and younger, Henry Bear's inspires imaginations to run wild with games, art supplies and chemistry sets that — unlike other supervision-required activities we've encountered — are fun for kids and adults. A large selection of puzzles, board books and blankets makes shopping for new parents a breeze.
Home Imagined
265 Broadway, Providence, 219-4663, facebook.com/homeimaginedpvd
The city's West Side is home to the latest project by That Guy's Guy Lemoine and his wife, Kristen. Along with the cutest retro gifts and That Guy's custom wood pieces, the store also hosts regular DIY workshops and offers interior design services. Big or small, if a boho home upgrade has been on your mind, this is the one-stop shop to make it happen.
Homestyle
229 Westminster St., Providence, 277-1159, homestyleri.com
Personalized story kits, sweet Lucky Feather charm necklaces and every wine accessory imaginable are just some of the pick-me-ups we've discovered here in the past, while Fraser fir candles, with a freshly felled, straight-from-the-woods tree scent, keep your holiday home smelling authentic.
J. Marcel
808 Hope St., Providence, 383-9777, jmarcel.com
The well-stocked boutique features lots of denim options, cozy knit sweaters and fun statement jewelry, among other must-haves.
J Schatz
46 Dike St., Providence, 273-0500, jschatz.com
Shop for egg-shaped stoneware birdhouses that come in blue pumice, kelp green lava, even a flashy platinum. Designers Jim Schatz and Peter Souza source raw materials within the United States to ensure a smaller carbon footprint and oversee production in their
Olneyville studio.
Kreatelier
804 Hope St., Providence, 432-7995, kreatelier.com
Those with a keen eye for design will find their heart's desire at Kreatelier. This eye-catching shop bursts with home goods, from reusable lunch bags and throw pillows to totes, curtains and handy organizers, all in punchy prints that wow.
LuLi Boutique
782 Hope St., Providence, 369-4332, luliboutique.com
LuLi stocks fashionable separates and dresses in solid colors and vibrant prints that flatter virtually every body type. Look for patterned scarves, oversized totes and stunning earrings and necklaces.
Lotuff Leather
1 Sims Ave., Providence, 888-763-2247, lotuffleather.com (by appointment)
Sumptuous leather goods made right in our own backyard. These pieces, including totes, handbags and accessories, age beautifully and are made to last a lifetime.
Marc Allen: Fine Clothiers
200 South Main St., Providence, 453-0025; 142 Bellevue Ave., Newport, 619-5750, marcalleninc.com
Marc Allen is devoted to the notion of a perpetually well-dressed man. Made-to-order clothing in wool, cotton and silks or ready-to-wear, there's nothing like a pop of color or handcrafted leather loafers to make an old wardrobe new.
Palomino
247 Rochambeau Ave., Providence, 270-2510, shop-palomino.com
The new kid on the block, Palomino brings a bit of the southwest to the East Side. With colorful scarves, leather goods and more, you can spice up your house and wardrobe with the store's fine wares.
Pleasant Surprise
297 Thayer St., Providence, 273-1202; 121 Swineburne Row, Newport, 846-1202, pleasant-surprise.com
You can't help but get a lift from browsing popular Pleasant Surprise, featuring contemporary and fun home accessories, including drinkware, quirky gifts and cards and toys for all the young-at-heart souls on your list.
Providence Bicycle
724 Branch Ave., Providence, 331-6610; 150 Lambert Lind Hwy., Warwick, providencebicycle.com
An impressive array of bikes by Felt, Cannondale and Raleigh for a wide range of cycling enthusiasts, as well as gear specifically tailored to female biking fans.
Providence Picture Frame
27 Dryden Ln., Providence, 421-6196, providencepictureframe.com
An entire acre of gallery and workshop space equals one of the biggest art and framing stores in the region. Fun posters, mirrors, framed reproductions and other stylish wall items dress up anyone's nest.
Providence Running Company
195 Wayland Ave., Providence, 454-1924
New Sauconys and Hokas bring relief to runners with tired tootsies, or opt for a workout wardrobe that highlights Nike capris or other nifty duds. The friendly staff can answer any equipment question.
Rhode Runner
657 North Main St., Providence, 831-6346, rhoderunner.com
Serious runners and walkers require serious shoes with a perfect, no-blister fit. Luckily, the Rhode Runner staff will make sure that's exactly what you'll get. Add to that a well-chosen supply of running attire, sunglasses, watches and accessories, and you're guaranteed to keep your jogging routine comfortable, safe and fun.
Rhody Craft
769 Hope St., Providence, 626-1833, rhodycraft.com
This whimsical store has moved across the street to bigger digs, with more room to browse the deeper inventory. Pick up a fun Rhode Island Red T-shirt, sample some delicious soap or drool over the jewelry. It's all on display and created by local artists.
risd | works
20 North Main St., Providence, 277-4949, risdworks.com
A new wave of offerings inspired by the museum's collections and current exhibitions sits alongside a better-than-ever selection of alumni goods. Check out the cool household items, as well as their artists' different takes on jewelry and kids' gear.
Simple Pleasures
6 Richmond Sq., Providence, 331-4120, simplepleasuresprovidence.com
In addition to the handmade jewelry and lush leather bags, the fresh custom wreaths and an array of gorgeous scarves, mittens and socks (almost) make you wish for colder weather.
Sneaker Junkies
290 Thayer St., Providence, 437-6997, sneakerjunkiesusa.com
Inside this friendly and laidback shop, you'll find collectible brands, including Alife and Clae, plus flashy styles from the likes of Reebok, Adidas and Puma. The selection rotates and limited-edition kicks sell out quickly, so sneakerheads keep close tabs on the new
arrivals, for good reason.
Studio Hop
810 Hope St., Providence, 621-2262, hopestreetprov.com/studio-hop
Nina and Peter Tegu bring their love of art to the neighborhood in myriad media: painting, sculpture, carved wood, ceramics and handmade jewelry. They also carry leather journals and albums, as well as handbags.
Talulah.Cooper
5 Traverse St., Providence, 273-4324, talulahcooperboutique.com
With a slew of designers represented, and an equally diverse mix of styles — think everything from a gold handcuff lariat to dainty diamond huggie earrings — you're sure to find something worthy of permanent residence in your collection.
Venda Ravioli
265 Atwells Ave., Providence, 421-9105, vendaravioli.com
In addition to the cheese, cold meats and scrumptious prepared foods, the authentic market features imported groceries, cookware and gift items, from slick German cutlery to cookbooks.
OUTLYING AREAS
Babs Fine Handmade Bags
Hope Artiste Village, 1005 Main St., Unit 8235, Pawtucket, 331-2301, babsetc.com (by appointment)
Sweet, moderately priced handmade bags in whimsical designs and colors are fashioned in boiled wool, as well as silk and alpaca. One of Barbara Materna's early creations — shaped like a hot dog — is still our personal favorite.
Blackstone Valley Brewing Supplies
403 Park Ave., Woonsocket, 765-3830, blackstonevalleybrewing.com
Owner Steven DuHamel guides you from malt, yeast and hops to producing pale ales and porters. You'll meet other enthusiasts at the shop, and maybe even taste their recipes.
Briggs Nursery
295 Kelley Blvd., North Attleboro, Mass., 508-699-7421, briggsgarden.com
This is no ordinary nursery. Decide on a theme and you can whiz along fast — perhaps colorful containers, each filled with a pair of gardening gloves and a trowel? Or just wing it once you've seen the possibilities, from plants to wreaths.
Charmed and Dangerous
169 Danielson Pike, North Scituate, 764-0612, charmeddangerous.com
For the fashion enthusiast on your list, Charmed and Dangerous offers designer clothing that makes any wardrobe even more fab. Dress up your holiday dinner look with a cold shoulder top and an embellished handbag that's sure to have your guests asking where you got it.
Charming Treasures
178 Danielson Pike, North Scituate, 764-5123, charmingtreasuresgifts.com
North Scituate Village is home to this treasure trove of a gift shop. From bath and body products to jewelry, children's items and
everything in between, there is simply something for everyone's stocking this year.
Cleverpup
Cleverhood.com
When the weather outside is frightful, outfit your favorite canine in a stylish Electric Houndstooth rain jacket from the Providence company that makes rain capes for humans. Fashioned in Fall River, these all-weather togs, in 3M reflective glen plain fabric with cozy Berber fleece, come in five sizes that fit Yorkies to Rottweilers and promise to keep four-legged friends dry as a bone.
The Flying Shuttles Art Studio
250 Main St., Pawtucket, 365-1751, flyingshuttlesstudio.blogspot.com
There's a covetable collection of colorful paintings, table runners, rugs and placemats at this amazing nonprofit studio, with styles that range from naturalistic to abstract and graphic. Proceeds support vocational training for the artists, who have intellectual or
developmental disabilities. Home base is Pawtucket, but they also sell at farmers markets and art shows.
Giraffes and Robots
Hope Artiste Village, 1005 Main St., Studio 2219, Pawtucket, 347-762-6871, giraffesandrobots.com
The focus is primarily on kids with fun posters bursting with whimsical treatments but her perspective on well-known landmarks, such as the Superman Building and a map of Little Rhody as you've never seen it before, keeps us coming back.
Hopscotch Room
2209 Mineral Spring Ave., North Providence, 349-4409, hopscotchroom.com
Handbags, scarves, home accessories, unique gifts, cute baby gear and more make this a convenient shopping pit stop, when ideas for finding the elusive perfect present are running low.
Lane's on Broad
2164 Broad St., Cranston, 383-5459, facebook.com/lanesonbroad
This lovely little space and one-time flower shop is now a fashonable, but reasonably priced, consignment and vintage boutique. Think Loft, the Gap, Talbots and Coldwater Creek, with a mix of new items with a more boho vibe, as well as home accessories. Once we spied the Del's lemon scented soy candle, we knew we were home.
Mel and Me
74 Hillside Rd., Cranston, 943-4646, melandme.com
This shop stocks well-known European
designers as well as up-and-coming names, for the latest fashions and stylish accessories. Browse designer labels that include Missoni, Stuart Weitzman and Chloe, for wearable, and elegant, works of art.
Mod Mama
6 Midway Rd., Cranston, 273-7800, modmama.com
In addition to organic baby gear and hip styles for the modern kid, Mod Mama also offers toys even a parent would love. Sweet cord animals, eco-friendly racers and stackers galore keep kids transfixed while you shop.
New Moon Studio
Hope Artiste Village, 1005 Main St. Unit 2204, Pawtucket, etsy.com/shop/newmoonstudio
Many of Hilal Minda's gorgeous wheel-thrown ceramics, from dinnerware to ingenious yarn bowls, are also utilitarian, but not all. Her decorative and perfect white pears don't have to perform. We're happy just looking at them.
Noon Design Shop
18 Post Rd., Warwick, 455-1222, noondesignshop.com
A combination storefront and working studio in sweet Pawtuxet Village, Noon features a carefully curated selection of jewelry, candles and accessories for your nest.
Patriot Place
2 Patriot Pl., Foxborough, Mass., 508-203-2100, patriot-place.com
Not just the chains here; there are locally owned businesses, including trendy Alex and Ani and Fanautical, for apparel with a nautical theme for the entire family. Davio's is an inviting spot to revive. Loads of free parking translates as another incentive to make
the trip.
Providence Diamond
Garden City Center, 65 Hillside Rd., Cranston, 946-7070, providencediamond.com
Stunning diamond rings, watches and sculpted statement pieces by designers like David Yurman. Tell Santa you've been very, very good this year.
With Heart and Soul
3751 Mendon Rd., Cumberland, 658-3470, withheartandsoul.net
Finding a thoughtful gift at With Heart and Soul will be no trouble. The boutique carries a selection of gifts from well-known brands such as Alex and Ani and John Medeiros.
Wright's Gift Shop
84 Inman Rd., Harrisville, 765-5745, wrightsfarmstore.com
Jewelry by local designers John Medeiros and Luca and Danni, eye-catching pieces by Whiting and Davis, stylish Bering watches and delicious choices — read: the fudge case of your dreams — from Wright's Farm.
Providence for the Holidays
​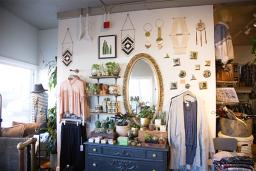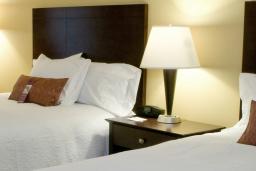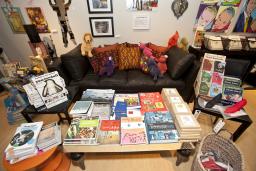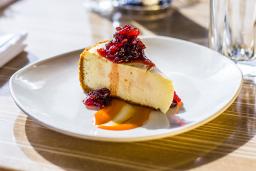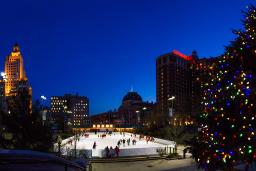 Holiday shopping is not for the faint of heart. Jostling crowds, long lines and traffic jams can… Learn More ›
RI Monthly Holiday Gift Guide
Best Holiday Shopping in Newport